Guided Quad excursions to Cala Sinise Baunei
Guided Quad naturalistic excursions around the area of Baunei
Departure by quad from Baunei to Cala Sisine towards the Golgo plateau, where we will visit the 17th century San Pietro church; "Su Sterru", the deepest single jump chasm in Europe (270 m.); "As Piscinas", which are famous nuragic pools. Then we will continue along the bed of the "Codula de Sisine" until we reach "Planu 'e Murta" from where we'll continue on foot towards Cala Sisine beach. It will take about 20 minutes of comfortable walking along the path of the imposing Codula de Sisine to get to the beach, once there, we will stop for about 1 hour and then we'll return to Baunei.
This is an alternative way of reaching this inlet, otherwise reached by sea from Santa Maria Navarrese.
Half day excursion
MORNING
♦ Departure: meeting in Baunei at 8.30 am and departure at 9.00 am;
♦ Return to Baunei at 1.00 pm.
AFTERNOON
♦ Departure: meeting in Baunei at 2.30 pm and departure at 3.00 pm;
♦ Return to Baunei at 7.00 pm.
Rates:
♦
from 01/03 to 31/05

€ 110,00
♦
from 01/06 to 30/09

€ 120,00
♦
from 01/10 to 15/11

€ 110,00
♦ price refers to half day;
♦ price includes fuel;
♦ price includes the guide;
♦ price is per Quad;
♦ Quads are two-seater.
Useful info
♦ Description: short visit to the Golgo plateau, then arrival in Planu 'e Murta and continue on foot for 20 minutes, stop on the beach for about 1 hour and return.
♦ Meeting point at the gas station "IP" at the entrance of Baunei.
♦ Recommended clothing: long pants, sneakers, bandana and sunglasses;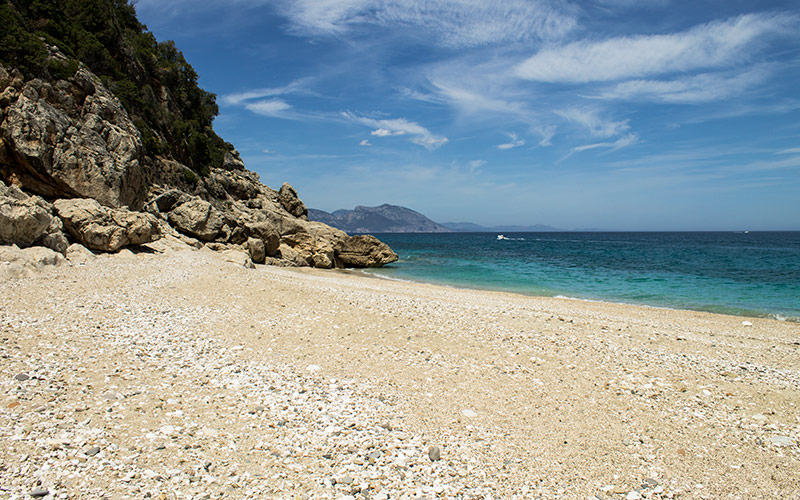 Cala Sisine
Cala Sisine has been used as a landing point since prehistoric times, in the oldest maps it's in fact called Portu Sisine (Port of Sisine). Today Cala Sisine is the privileged point of landing and stopping, both for those coming from the sea and for those coming from the inside, on foot or by quad.
In fact, this splendid cove is the confluence and ending point of the "codule" or "baccus" of the Golgo plateau, Genna Selole and the Margine plateau.
In the splendid beach of Cala Sisine you will find a bar and a restaurant for a break.
Request information
Fill in the request form and you will receive the most suitable solution for you, with prices and availability directly in your inbox.
Privacy Policy
Pursuant to and for the purposes of art. 13 of Legislative Decree n. 196/2003 on privacy, we inform you that, the Hotel Agugliastra s.r.l. as Data Controller, will keep the data relating to you in its archive. The processing of information concerning you will be based on the principles of correctness, lawfulness and transparency and protecting your privacy and your rights.
At any time, you can exercise all the rights provided by art. 7 of Legislative Decree no. 196/2003 including the rights of access, rectification, updating, integration, transformation into anonymous form of the data or cancellation of the same, as well as to oppose their use by contacting the person in charge, appointed by us for this purpose pursuant to article 13 letter f) Legislative Decree 196/2003, in the person of the owner of the exercise, available at the following email address: excursionsquadbaunei@gmail.com. By submitting this request, you declare that you have read and approved what is specified in this statement.
Escursioni Quad Baunei
Punto di partenza e arrivo
Altopiano del Golgo
Breve visita del Golgo alla voragine "Su Sterru", "As Piscinas! e alla chiesetta di San Pietro
Cala Sisine
Spiaggia di Cala Sisine