Guided Quad excursion, panoramic tour in Baunei
Guided Quad Naturalistic excursions in the territory of Baunei
Itinerario in Quad che partendo da Baunei ci condurrà a Ginnirco dove arriveremo al vascone: potremo godere di uno splendido paesaggio naturarlitico e se siamo fortunati vedremo animali allo stato come maiali, capre e mucche brado che si abbeverano. Inoltre troveremo un punto panoramico dove poter ammirare il blu che ci regalano la costa di Baunei e il golfo di Orosei. Il tour prosegue in direzione dell'altopiano del Golgo e durante il tragitto faremo visita ad un pastore nel suo ovile per una colazione sarda, degusteremo alcuni nostri proditti tipici come insaccati e formaggi.
Ripartiamo per l'altopiano del Golgo e dopo un  breve visita ad alcune delle sue bellezze (la chiesetta di San Pietro, "su Sterru" o la faccia litica) si rientra a Baunei.
Il tour con la degustazione dal pastore verrà svolto con un minimo di 3 quad.
Half day excursion
MORNING
♦ Departure: meeting in Baunei at 8.30 am and departure at 9.00 am;
♦ Return to Baunei at 1.00 pm.
AFTERNOON
♦ Departure: meeting in Baunei at 2.30 pm and departure at 3.00 pm;
♦ Return to Baunei at 7.00 pm.
Rates:
♦
from 01/03 to 31/05

€ 135,00
♦
from 01/06 to 30/09

€ 145,00
♦
from 01/10 to 15/11

€ 135,00
♦ price refers to half day;
♦ price includes fuel;
♦ price includes the guide;
♦ price includes the shepherd's breakfast;
♦ the tour with the tasting by the shepherd will be carried out with a minimum of 3 quads;
♦ price is per Quad;
♦ Quads are two-seater.
Useful info
♦ Description: partenza per Ginnirco con visita ad alcuni punti panoramici, poi visita al pastore con degustazione di prodotti tipici nel suo ovile e si prosegue per l'altopiano del Golgo con una breve visita delle sue perle e poi rientrare.
♦ Meeting point at the gas station "IP" at the entrance of Baunei.
♦ Minimum number of participants: the tour with the tasting by the shepherd will be carried out with a minimum of 3 quads;
♦ Recommended clothing: long pants, sneakers, bandana and sunglasses;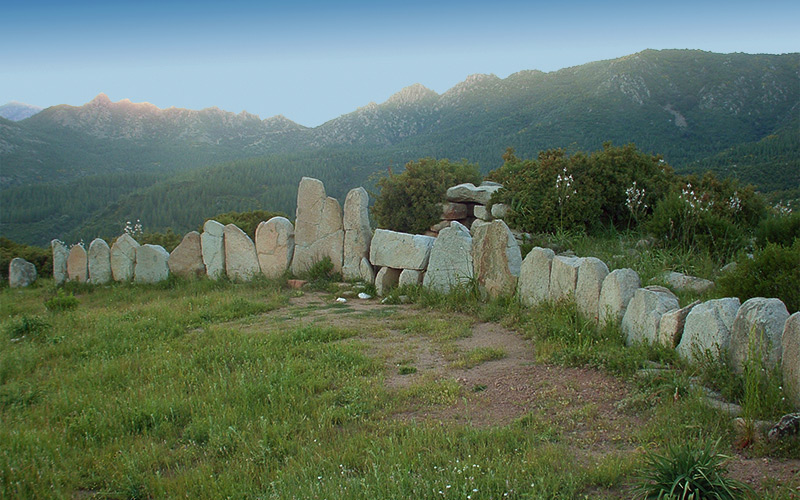 The Tombs of the Giants of Osono
The megalithic monument is located in the Osono valley, from which it takes its name, about 3 km from Triei. The monument is 22 meters long, with a sepulchral corridor about 10 meters long which is accessed from an entrance with a large architrave and made and covered with large stone blocks. The currently visible structure of the tomb of the giants of Osono is the result of two construction phases and a reuse of the Roman age. In the Bronze Age, the navetiform sepulchral chamber with a truncated-ogival section was built and ended at the rear of the apse. The original structure was subsequently bandaged with lithic blocks. The exedra was added with a large architrave in front of the "entrance and then sealed, after use, with shale plates. In advanced Roman times, the upper part of the entrance was destroyed in order to reuse the burial chamber.
Request information
Fill in the request form and you will receive the most suitable solution for you, with prices and availability directly in your inbox.
Privacy Policy
Pursuant to and for the purposes of art. 13 of Legislative Decree n. 196/2003 on privacy, we inform you that, the Hotel Agugliastra s.r.l. as Data Controller, will keep the data relating to you in its archive. The processing of information concerning you will be based on the principles of correctness, lawfulness and transparency and protecting your privacy and your rights.
At any time, you can exercise all the rights provided by art. 7 of Legislative Decree no. 196/2003 including the rights of access, rectification, updating, integration, transformation into anonymous form of the data or cancellation of the same, as well as to oppose their use by contacting the person in charge, appointed by us for this purpose pursuant to article 13 letter f) Legislative Decree 196/2003, in the person of the owner of the exercise, available at the following email address: excursionsquadbaunei@gmail.com. By submitting this request, you declare that you have read and approved what is specified in this statement.
Escursioni Quad Baunei
Punto di partenza e arrivo
Santa Maria Navarrese - Ostello
Fermata all'ostello per una visione panoramica sul golfo di Arbatax
Osono
Visita alle Tombe dei Giganti di Osono a Triei
Altopiano del Golgo
Breve visita del Golgo alla voragine "Su Sterru", "As Piscinas! e alla chiesetta di San Pietro