News and last minute about excursions by Quad Baunei
News and last minute about quad tour
Here you will find last minutes and news about guided Quad naturalistic excursions in the uncontaminated territory of Baunei, in the central-eastern Sardinia.
Book an excursion with us, take advantage of the last minute.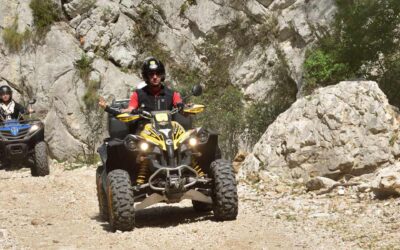 Guided quad Easter excursion. Guided Quad Naturalistic excursions in the territory of Baunei. On Easter Monday we propose the Quad itinerary to Cala Sisine which from Baunei through the Golgo plateau will lead us through the winding Codula di
read more
Our paths
Our guides will lead you to discover the most evocative itineraries, from the Golgo plateau to the Eltili valley with the Mamutorco waterfalls and the church of Santa Lucia and San Giovanni, to the splendid beach of Cala Sisine, and from Santa Marina Navarrese to the Tombs of the Giants of Osono in Triei. Driving the quads you will appreciate the beauty of the area even more.